Admissions
Inkahoots' new interactive public protest projection is part of Inhabit: Ideas for better living, a program of temporary public art and events designed for 'laneways, pocket parks and concrete nooks' in Brisbane's CBD. Curated by the Museum of Brisbane, it runs from 11 July - 22 August.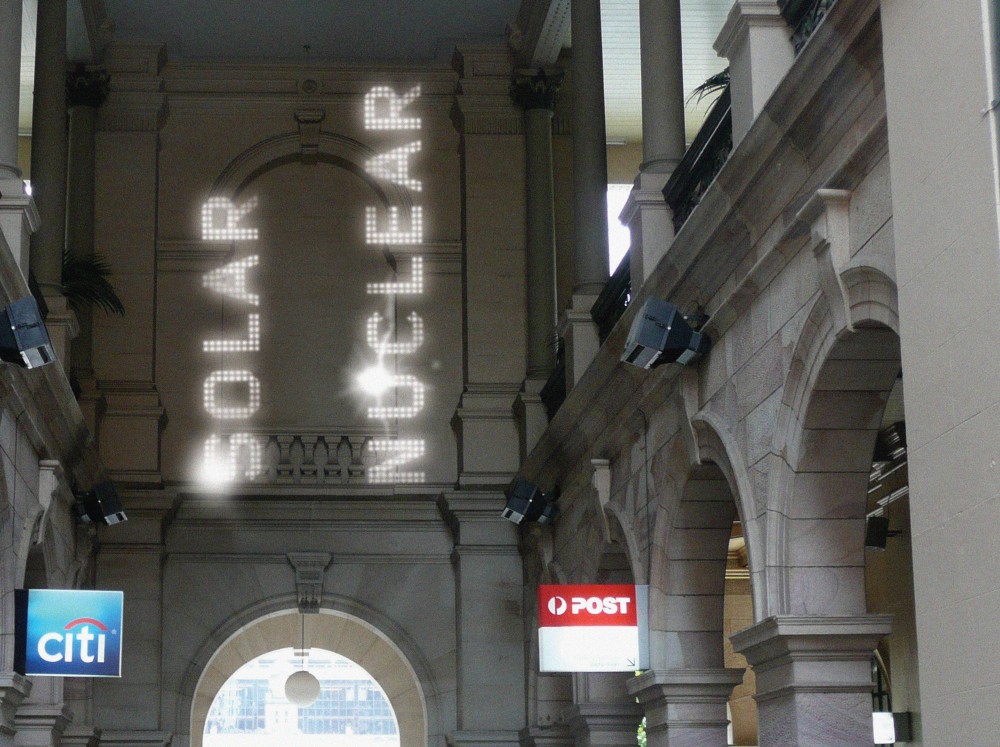 Admissions offers a choice between two halves of a provocative binary, displayed on LED panels suspended over the city's General Post Office laneway. The pedestrian passes under one, triggering a vote for their preference – data that feeds a video artwork projected onto the lane's archway. Parodying newspaper vox pops, different options are displayed every day: fear or hope; solar or nuclear; competition or co-operation; public services or private tax cuts...
The statements consist of animated typography constantly changing in size relative to the ratio of 'votes' they receive as the participant passes under a sign – resulting in an animated, visual duel between two ideas.
...
Why is it that messages about the issues most relevant to our lives are quarantined away from public spaces?
The decisions induced by billboards, banners, posters, and signs around the city are mostly trivial. The choices offered are usually about what to buy – Coke or Pepsi? Colgate or Aim? Camry or Commodore?
For six weeks, Admissions offers a civic expression of real choices.
By simply choosing a word you will contribute towards a collectively generated artwork. And you will register a collective challenge to our common spaces.
Visit www.museumofbrisbane.com.au for a live webcam update and data tally.
...
Special thanks as always to Mathew Johnson.
Many thanks to Leith Golding and VAST AV.
Also to Holly Arden & Adam Margerison at Museum of Brisbane / Brisbane City Council.
And to Australia Post.