New Anthems reviewed
New Anthems
By Gillian Serisier

"Australians all let us text a window, for we are young and interactable." So reads the telephonic cut-up of Inkahoots' project New Anthems, which graces the shopfront window of the Judith Wright Centre for Contemporary Arts in Brisbane. For the project, Inkahoots has created custom made, typographic sculptures. Fabricated from neon, optical fibre and fluorescent lighting, recycled cardboard, wood, steel and LED displays, the work comprises three-dimensional texts that change as people SMS in new phrases or words.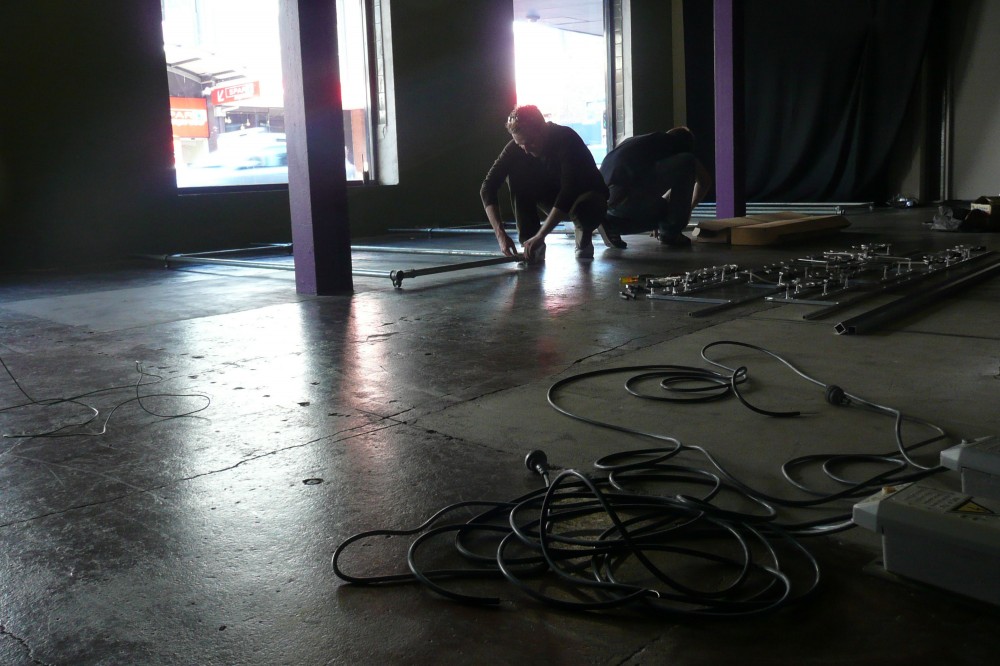 Running through three phases each interactive telephonic cup-up posits an incomplete line from iconic Australian anthems. The first installation phase (July through to August 2009) "Australians all let us rejoice, for we are young and free," commences with our official national anthem: 'Advance Australia Fair' by Scotsman Peter Dodds McCormick. The second installation (September 2009) utilises the iconic lines of Dorothea Mackellar's 'My Country': "I love a sunburned country, a land of sweeping plains." The anthem text to be deconstructed for the third and final in the series (December 2009 through to January 2010). It will be from Banjo Paterson's 'Waltzing Matilda', and will similarly invite a democratic horde to rewrite our anthems and envisage a new national identity.
For Jason Grant of Inkahoots, the project presents a means to explore the dialogue of identity that is intrinsic to the growth of a nation. "Going forward without a sense of who we are means we're stuck ignoring the future, when we should be reimagining it," says Grant. The idea to rewrite the anthems, official or otherwise, stemmed from the simple observation of mumbled lyrics: "This position [of national illiteracy in regards to anthems] cuts both ways though - it might spare us the ugliness of extreme nationalism (although that's not necessarily that far from the surface considering Tampa, Hansonism and Cronulla), but it also probably means a less penetrating awareness of our national identity," says Grant.
"Australians all let us privatise everything, for we are young and short-sighted." Contributions have been about the environment and political concerns, but they have been frivolous too, though sometimes deliciously so. "Australians all let us watch telly, for we are young and restless." Many have used the real-time dialogue as a forum for instant remonstration with a swathe of anti-Gunn Corporation messages hitting the window during the Tasmanian protests. "Australians all let us stop gunns [sic] corporation, for we are young and pillaging [sic] Tasmania." Similarly climate change has been at the fore with messages of desert and deluge in equal share. "I love a sodden country, a land of flooding plains.
And while the messages are witty, topical and occasionally irreverent, the project itself should be acknowledged for its own functionality, design acumen and deft grasp of the medium of interactive art. This is a field with which Inkahoots is well-acquainted, with much critically lauded work in this regard. Interestingly, the studio's talent has been most warmly recognised by its international peers, with inclusion in Phaidon's international survey of graphic design, Area, Taschen's Graphic Design for the 21st Century - 100 of the World's Best Designers, the recent Masterpieces exhibition at the National Gallery of Slovenia and a guest speaker appearance at the Icograda Design Week Torino (part of the Italian Architectural Biennale). Established in 1990 by a group of community artists and activists as a community access screenprinted studio and arts collective, Inkahoots is now recognised as being at the forefront of socially engaged design. Based in Brisbane, the studio was founded on the principle of voice, and was open to artists, unions, protesters and anyone else who chose text and image as a means to promote change and action.
What part its provision of a forum for social commentary and reflection plays in creating social change can only be measured in terms of the zeitgeist, which has already largely embraced the issues being espoused. What makes this forum relevant to the Everyman, however, is both its ready punter engagement and democratic exposure. Rather than being tucked away within the rarefied confines of the museum, it is physically present in the world and unconstrained by timetabling. Granted, the late night contributions may get a little "scatalogical", as Grant points out, but that is part and parcel of the democratic interaction process, which can run the gamut from profound to profane in a heartbeat.
Visually the work is beautiful, arrestingly clear and intriguingly layered. The graphics are multidimensional and fluid without being wishy-washy, and defined without being obvious. This is largely due to the three-dimensionality of form, which plays with the idea of graphics as a sculptural medium cognisant of representational meaning: "On a conceptual level too we can say, if language is the architecture of thought, then typography is the architecture of language. So to build illuminated, interactive, typographic sculptures is an opportunity to explore the physicality of written language," says Grant.
The work Inkahoots is creating, both here and internationally, most assuredly deserves the accolades this very fine design studio is receiving. And while social content may be the driving impetus for the studio and witty phrases the memory for the majority of viewers, the idea of New Anthems as an interactive portal for the voice of all is what makes this project so universally relevant. The only pity is that it isn't a permanent public artwork that drifts from one location to the next as perpetual stream of conscience.